ORI srl has recently started to cooperate in the Italian market with Tss4U.
Tss4U (THE solar solutions for YOU) is a relatively young company, but it was formed by engineers with over 20 years of experience in the industrial market for PhotoVoltaic Solar Systems.
The world-wide awareness and utilisation of solar photovoltaic (PV) energy for industrial applications increases steadily at ca 15% growth a year. As a proven reliable power supply option, PV systems can be used for a large number of applications in remote areas.
The requirements for the systems can differ to a great extent and depending on the nature of the application. In order to provide a reliable cost-effective electrical power supply a system approach with a one-source responsibility is imperative.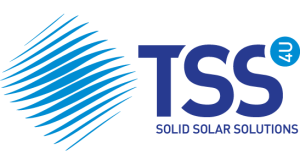 Tss4U is dedicated to providing reliable renewable energy power sources like:
solar power system

solar/wind hybrid system solutions specifically designed
Special products include:
controller equipment for Cathodic Protection

explosion proof ATEX Zone 1 certified solar modules and battery enclosures
These products are supported by services as consultancy, installation supervision, commissioning, training and after sales.
Tss4U is also capable of engineering activities, consultancy and site surveys, including:
conceptual studies

preliminary design

detailed design

implementation

installation

commissioning

IOM procedures